While Hensley began as a company with a focus on bringing towing safety to the travel trailer market by offering advanced trailer sway control technology, we've also built a reputation for providing the best air-ride 5th wheel hitches available.
Because of our reputation and customer loyalty with the Hensley Arrow and Cub, many of our 5th wheel customers come from Arrow or Cub owners who take advantage of our Hitch Trade-up Program. For details on that call 1-800-410-6580 ext. 104. Aaron can help you out.
TrailerSaver Air-Ride Hitches…3 Models to choose from
BD3 for 5th Wheels under 18,000 lbs.
The BD3 is our best selling 5th wheel hitch. And for good reason. Hensley provides the only hitch on the market that offers air-ride comfort and break-down design.
The BD3 comes apart quickly for easy removal and installation. We recommend the BD3 for the weekender and family RVer with a 5th wheel trailer 18,000 lbs. or less.
The BD3 is shown here with the optional Ford Under-bed adapter plate.
TS3 for 5th Wheels under 20,000 lbs.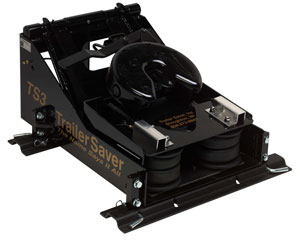 The TS3 is our flagship air-ride hitch. The key to its technology is the level-head pivot design. The pivot point of the hitch head is forward, toward the cab, and level with the head. This allows the TS3 to absorb more of the fore-aft movement of the trailer as well as the up-down movement. We recommend the TS3 for the frequent tower who doesn't mind leaving the hitch in the truck bed most of the time. It is removable, but doesn't break down into lightweight sections like the BD3.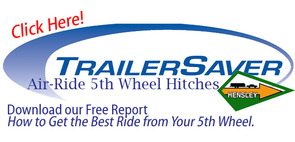 TSBL2H for 5th Wheels up to 32,000 lbs.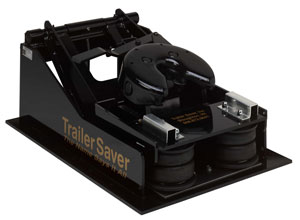 The king of air-ride hitches is what we simply refer to as the 2H. The 2H is essentially the TS3, but with thicker steel plates to give it a towing capacity of 32,000 lbs. It is also a bolt-down hitch, designed for medium-duty trucks with flat beds. We do provide a kit to adapt the 2H for standard pick-ups with rail mounting systems, quite popular among the diesel owners who want to tow the big rigs.
For more information on our TrailerSaver Air-Ride 5th Wheel hitches, call 1-800-410-6580 or visit our TrailerSaver Website.